With so many options in a big city, you may be wondering how to choose the right pharmacy in Toronto for your needs. Just as with any service, consumers have options, and where you go for health advice and prescriptions is no different. We had the opportunity to speak with Lily Goldsmith, Pace Pharmacy's Director of Pharmacy to find out what makes a good patient experience and why she loves what she can bring to her patients working at Pace. Spoiler alert, filling prescriptions barely scratches the surface.
Expertise 
Medications are not always straightforward. Lily notes that many people come to Pace Pharmacy in Toronto because they are looking for a specialty compounding pharmacy. A compounding pharmacy offers an extra level of problem solving to patients. "Often they've already tried the more traditional, commercially available drugs and something they need is not available or it has ingredients that they can't tolerate or it's in a form that they can't work with," she describes. Compounding pharmacies are able to source ingredients that are difficult to find, search for alternatives, or figure out how to make unique dosages that work for people. 
If you're looking for creative and knowledgeable solutions, make sure you find a pharmacy that has the expertise you need. 
Time
One of the most important aspects to providing quality patient care is having enough time to do the job right. Lily values the time she is able to spend with patients above all else. "We're able to give our patients the time to listen to them, to understand what they really need and go do the research if necessary." A trip to the pharmacy includes so much more than simply handing over a prescription. A patient may need counselling on drug interactions, other information on how to manage their condition, or alternatives to what they are already doing. 
Lily notes that she has between three and five other pharmacists working in the building at all times (plus many other staff) while many places will have only one pharmacist on per shift. This means she does not have to rush and can give her patients the time needed. 
Our modern day lives are busy enough, healthcare does not need to be. Ensure your pharmacist has the time to really listen to your needs and help you make the best decisions for your health.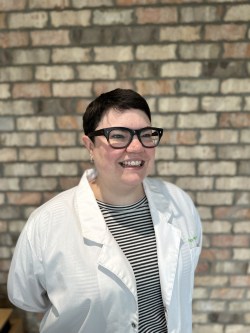 Teamwork
Another benefit to having multiple pharmacists on duty at the same time means that patients not only get the time they need, but sometimes two heads are better than one. The whole pharmacy team can be there to provide service and expertise. Lily emphasizes that everyone she works with shares the same team mentality.
"We certainly look for the right people that have the same mindset. Over the years we've honed in on working with team members who feel the same way; that are also passionate about really listening to people and understanding what their needs are and respecting their choices. You can have a big team but if it's not like-minded people then it's irrelevant."
Look for a pharmacy in Toronto that can provide you access to all the people you need and who can work together towards your better health.
Connection
When asked about why she became a pharmacist, Lily is quick to say that she wanted a career where she could develop relationships and give back to her community. She loves the longevity of the relationships she's able to develop. "There are patients that we've had since we opened 13 years ago and even patients that don't get compounds from us, they get regular medications and they could choose to go to one of the big box stores in the neighbourhood. They've told us they choose to keep coming back to us because they've had such a good experience."
Lily simply uses her humanness to connect with others. Topics ranging from the challenges of being a working parent to the best places to camp around Toronto build the relationships and trust necessary to truly help her patients. This is all a part of creating an open and welcoming environment. "Sometimes you're talking about something embarrassing…it's so important to us that we make every person feel comfortable and supported," she emphasizes.
 Don't let the pharmacy be merely a place to drop off your prescriptions. Find one that suits you, makes you feel comfortable and values a connection to you as a person. "We're just real people helping other real people," Lily explains. We think most would tend to agree. 
Thank you, Lily, for sharing your expertise and passion for what you do! Find out how Pace Pharmacy in Toronto can provide the personalized care you're looking for. Connect with us today.