Did you know? In addition to offering customized compounded medications, Pace Pharmacy offers a broad range of more traditional pharmacy services.
Please reach out to one of our pharmacy team members if you would like to learn more about the following:
Minor Ailments Prescribing (MAP) 

As of January 2023, Pharmacists in Ontario are authorized to prescribe for 13 Minor Ailments:

Allergic rhinitis (sneezing, stuffy nose, runny and itchy nose, and itchy throat, eyes, and ears)
Candidal stomatitis (oral thrush) (fungal infection of the mouth)
Conjunctivitis (bacterial, allergic, or viral eye infection, including "pink eye")
Dermatitis (atopic, eczema, allergic, and contact)
Dysmenorrhea (menstrual cramps)
Gastroesophageal reflux disease (GERD) (heartburn, acid reflux)
Hemorrhoids
Herpes labialis (cold sores)
Impetigo (bacterial infection of the skin)
Insect bites and urticaria (hives)
Tick bites and post-exposure prophylaxis to prevent Lyme disease
Musculoskeletal sprains and strains
Urinary tract infections (uncomplicated)

If you're dealing with a minor ailment, your Pace Pharmacist is here to lend a hand. They're well-equipped to provide the guidance and support you need to manage your condition effectively. Don't hesitate to reach out to them for assistance.

Blister Packs and Dosette Boxes (Compliance packaging) 

If you or someone you care for is taking multiple medications and could use help remembering when to take your medication, or if you have already taken your medication, a weekly blister pack or dosette box may be right for you.

Prescription Extensions

Pharmacists have he authority to renew most prescriptions to ensure that patients do not experience a disruption in their treatment.

Medication Therapy Reviews

If you take a several different medications, including prescriptions, over-the-counter meds, vitamins, and herbal supplements, one of our knowledgeable pharmacists can sit down with you and help you understand what you are taking, why you are taking it, if there are any potential interactions between your medications, and let you know if there are any medications you no longer need to take.

Patient Counselling

Our pharmacists are always available to help you choose the best over-the-counter product for you. Are you looking for an OTC product to help treat a cold, allergies, muscle aches and pains, hemorrhoids, eczema, etc.?  One of our caring pharmacists will work with you to ensure that you find the product that is right for you or someone you care for.

Special Orders

We will happily order any product our suppliers carry that we do not currently stock in our pharmacy.

HealthSnap.ca

HealthSnap is Canada's health and over-the-counter online site. There are over 5000 items and 200+ brands available to choose from.  Free delivery is available to Pace Pharmacy for pick up.  HealthSnap supports small local businesses in the increasingly competitive digital economy.  Visit HealthSnap.ca to learn more.

Central Fill Services (a service for other Pharmacies/Pharmacists)

An effective method to offer compounded preparations to your patients, avoiding referral to another pharmacy, is to work with Pace Pharmacy's leading central fill services.  Pace Pharmacy is well equipped to prepare and package your sterile and non-sterile compound prescriptions.  Let your patients access compounded medications with the help of Pace Pharmacy's Central Fill Service.

Pace Pharmacy Central Fill Benefits

Cost savings to Pharmacies

You save on the cost of ingredients, training, time, and equipment.
Maintain the relationship with your patients
Offer a desirable service to your patients
Offer extreme convenience to your patients

If you want to learn more about any of our services, or if you have a suggestion for an additional service we should offer, please contact us!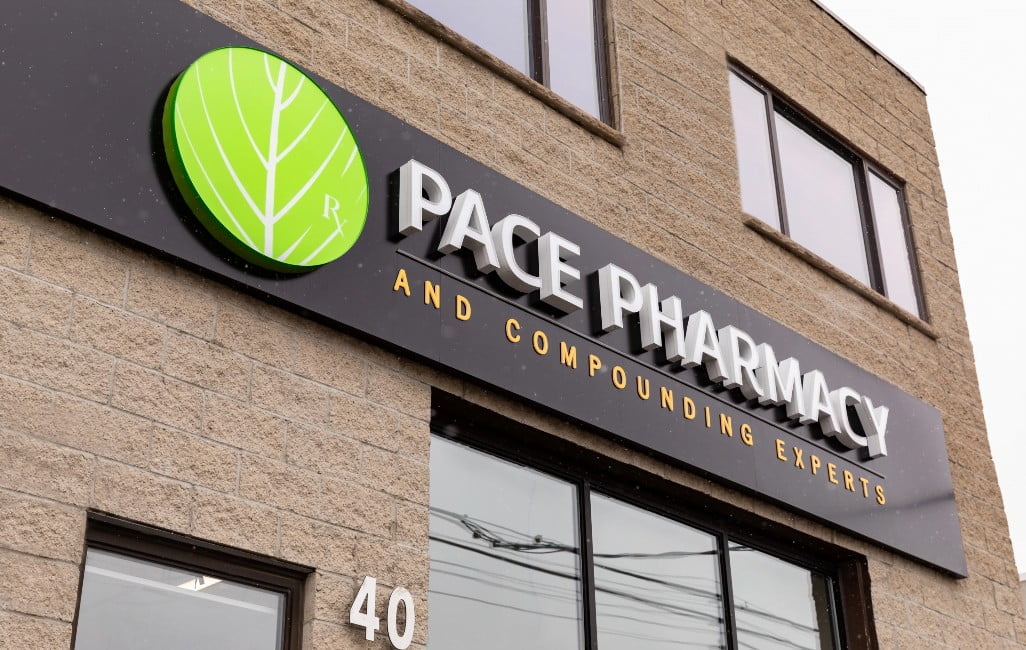 CONTACT
US
We would love to hear from you, so feel free to reach out!