Fertility Drugs Available At Pace Pharmacy In Toronto
Fertility Drugs Are Available at Pace Pharmacy
The staff at Pace Pharmacy, on Isabella Street near Yonge and Bloor in downtown Toronto, understands the challenges when couples experience fertility issues.
Pace Pharmacy offers individualized and confidential services to all their patients, which is especially important for people who need extra guidance and support while navigating fertility treatments.
Since 2010, Pace Pharmacy has been the only pharmacy in Toronto offering compounded and non-compounded fertility medications readily available. Pace Pharmacy has multiple compounding laboratories on-site with highly advanced facilities and equipment. The Pace Pharmacy staff is proud to be another source of support for those who are going through the emotional and challenging time of trying to grow their family.
There are many different types of fertility drugs associated with in vitro fertilization (IVF), some of which are self-administered injections. The Pace Pharmacy team is familiar with all the medications they dispense, and are the best source of information to ensure fertility medications are taken properly and will be the most effective.
Some of the medications they have available include Puregon® 300, 600 and 900, a follicle-stimulating hormone (FSH) injection sometimes requiring the supervision of a professional. Gonal-f® 300, 450 and 900 is another follicle-stimulating hormone that is often used in conjunction with a human chorionic gonadotropin (HCG) hormone such as Ovidrel®, also available from Pace Pharmacy.
Pace Pharmacy's specialty is in compounded progesterone suppositories and progesterone injections for women who have a progesterone deficiency; dehydroepiandrosterone (DHEA), an endogenous steroid hormone, which is offered in capsule form and taken orally. Some other medications always available include Estrace, Estradot, Dostinex, Lupron, Crinone, Endometrin, Menpur, Cetrotide, Repronex, Serophene, Letrozole, Suprefact, Doxycycline, and many more. They even have a wide variety of syringes and needles that may be suitable for many of these medications.
The ability to provide all fertility drugs is a source of pride for Pace Pharmacy. They understand that time is always of the essence, and will work with patients, clinics, and other healthcare professionals to ensure medications are ready and available. If shipping is required, the Pace team will make the necessary arrangements to ensure convenience for their patients.
THE PACE PHARMACY TEAM OFFERS THEIR CLIENTS MORE THAN JUST MEDICATION. IF YOU WANT TO BECOME A PATIENT, WE PROVIDE PERSONALIZED GUIDANCE AND SUPPORT WITH RESPECT TO  MEDICATIONS, WHICH IS INVALUABLE WHILE GOING THROUGH FERTILITY TREATMENTS.
IF YOU WANT TO BE OUR PATIENT, CONTACT THE TEAM AT PACE PHARMACY BY CALLING 416-515-7223.
Fertility Medication
Options
Explore a diverse selection of specialized fertility medication options available at Pace Pharmacy. We acknowledge that every fertility journey is unique, which is why our approach is focused on personalized solutions. Our compounded fertility medications are prepared with utmost precision, working in close collaboration with healthcare providers to ensure that you receive the tailored support required throughout your fertility treatment. Whether it's in vitro fertilization (IVF) medications or self-administered injections, our experienced pharmacists are well-versed in many aspects of fertility care.
Fertility Pharmacy Services
in Toronto
Pace Pharmacy has emerged as a prominent fertility pharmacy in Toronto, offering a comprehensive range of fertility medications and services. Our commitment to providing individualized and confidential support is especially crucial during the emotionally charged and challenging times that accompany fertility treatments. With multiple advanced compounding laboratories on-site, we take pride in our ability to offer both compounded and non-compounded fertility medications, ensuring that you have access to the treatments you need.
Fertility Patient
Support
Your fertility journey deserves unwavering support, and that's exactly what you'll find at Pace Pharmacy. We go beyond being a mere pharmacy – we stand as your partners in this significant chapter of your life. Our dedicated team not only provides expertly compounded fertility medications, including progesterone in oil injections and suppositories, as well as medications like Puregon® and Gonal-f®, but also offers compassionate guidance and a listening ear. You can count on us for personalized care, assistance, and encouragement every step of the way.
How to Get Your
Fertility Prescription
Obtaining your fertility prescription is made simple and convenient at Pace Pharmacy. Our streamlined process ensures efficiency without compromising on quality. We collaborate seamlessly with your fertility specialist, who will prescribe the most suitable treatment for your unique needs. From there, we take charge, preparing your compounded medications with precision and delivering them directly to your doorstep, upon request. Through our contact us form, via email, or the Pace Pharmacy app, reaching out to us is effortless and quick.
Choose Pace Pharmacy for your fertility pharmacy services needs in Toronto. Our commitment to exceptional care, paired with our expertise in compounded medications, makes us your reliable partner throughout your fertility journey.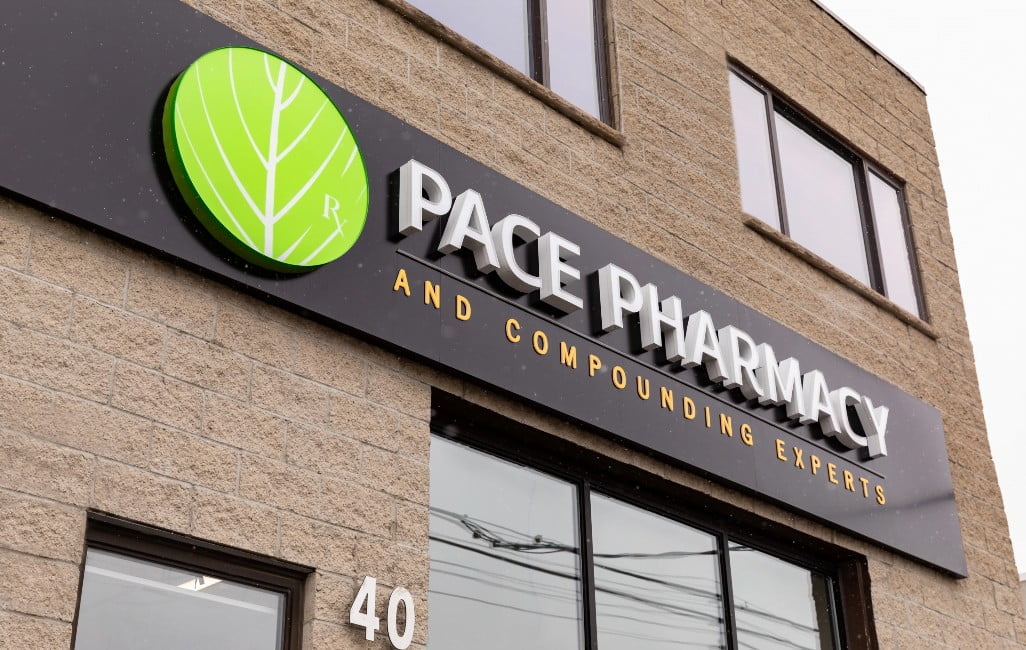 CONTACT
US
We would love to hear from you, so feel free to reach out!